"Your" Tuscany is by far the most captivating and exciting setting for your wedding, ceremony or event.
When looking for Wedding Venues in Tuscany you want to ensure it is intimate, authentic and spectacular all at once. We think our Wedding Venues in Tuscany offer the perfect mix of the past and future, tradition and innovation and knows how to showcase every aspect, from the fascination of cities of art, to the geometric lines of the Chianti countryside, from the whisperings in the narrow streets of Medieval villages, to sea views along the Etruscan Coast.
And if Tuscany is too cramped for you, you have the beauty in the whole of Italy to choose from: the romantic rock formations in Capri to the evocative remains of Imperial Rome.
These are some of the many locations available. If none of these suits you, contact us: we are ready to propose solutions tailored to your needs and expectations.
This 15th-century masterpiece is resting in the heart of the Chianti region. You and our guests will be awestruck by the romantic sights of this renaissance estate, while still enjoying luxury accommodations such as a relaxing pool and a spa. This beautiful location is also home to 600 acres of lush vineyards and olive groves with which they produce their own special wine and olive oil for you to enjoy. There are 28 rooms and suites, with an additional 10 rooms in the villa. This magnificent venue is just 20 minutes away from Florence, allowing you to enjoys days in the exciting city, then retreat to the blissful Tuscan countryside in the evening.
A stunning Medicean Villa surrounded by vineyards and olive trees, it is elegance effortlessly transports guests back to an era of Italian aristocracy and create an impressive and romantic backdrop for your wedding or event. The estate is steeped in history and offers the utmost in luxury and service. It is also conveniently close to Florence, Lucca, Pisa and Sienna and yet still far enough away to enable guests to feel completely immersed in the wild beauty of the Tuscan countryside.
Originally a simple farm owned by the Medici family in the 15th century, this magnificent Florentine destination has grown into the perfect host for your fairytale wedding. This location has been recently restored with high-end style. Just five minutes from Florence's city center this venue offers modern accommodations while retaining its romantic gothic style charm. Strolls through the winding paths of the vast gardens or gazing at the stunning landscape from a stone terrace will allow you to immerse yourself in a perfectly romantic atmosphere. Blooming with over 30,000 different plants and flowers, you and your guests will feel the magic of these beautiful grounds come to life.  Right next to an intimate courtyard, an onsite chapel bestows gorgeous views of Florence through wide glass windows, and if you are searching for the sunset of your dreams, you will find it here. The villa contains 7 suites for a max 25 guests, all uniquely decorated with extravagance in mind. While some offer patio access perfect for intimate breakfasts, and others present cascading views of the Tuscan countryside, they all ensure that you and your guests will feel like Italian royalty.
If you are searching for a wedding location that has a refined, superb, and classic essence, look no further. Contact The Tuscan Wedding today and book your wedding here, you will be guaranteed a polished and sumptuous event. Express the feelings in your heart on your wedding day in the heart of Tuscany. This location is equipped with a remote chapel to commemorate one of the best days of your life. Take pleasure as you experience culinary delicacies from their excellent restaurant and catering service during your reception. Here is the location for you and your sublime wedding. Accommodation: 18 rooms + small villa the location can accommodate up to 54 people with the sofà bed. Internal catering/restaurant: Restaurant on site Catholic ceremony: Church 5 minutes from the location Want to know more about this location? Send us an email
Experience the feeling of a blissful wedding, with an event filled with exquisite taste and luxury. Although it is a bit pricier than other locations, your dream wedding will be brought to life. You can get married here and have the option of an indoor wedding where it is decorated with a chic flair. Or you can opt for the gorgeous exterior of the hotel with an exceptionally beautiful backdrop of Tuscan scenery. As you are left speechless with your flawless wedding, your guests can partake in the joy and excitement as they are being wined, dined, and dazzled all night! The Tuscan Wedding will ensure that if you chose this location for your wedding, you will not be disappointed. Rather you will be overwhelmed with its unique style, making this day last in your memories forever.
Want to know more about this location? Send us an email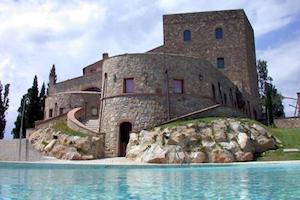 If romance in the city of Florence is what you desire for your perfect wedding, then look no further because this venue is the destination for you. It is complete with an enchanting ambience, a friendly staff, and amenities to accommodate the logistics of your wedding and guests. The venue has a variety of resources that you can utilise and take advantage of on your special day that best suits your needs. The chef and catering staff will stun you with their delectable courses and mouthwatering, tasty treats that your guests will be enjoying throughout the night. With great food and company, the night will be off to an amazing start. Besides this, the location and building itself will leave a positive impression—something they will always remember. There are dreamy and comfy gardens near the courtyard that couples adore, especially during the warmer months. If your wedding is in the cooler months, or fall to the winter season, the interior of the castle is adorned with timeless pieces. In addition to the courtyard gardens, the castle has a winter garden that will give you a piece of spring during any bad weather. The location is absolutely magnificent and once the guests are happily fed, they can move into the veranda of the winter garden. The open area is a beautiful place to dance and enjoy the reception into the early hours of the night. As you move into the next chapter of your life, this venue will have you feeling like royalty the entire day as you share it with close friends and family.
Want to know more about this location? Send us an email
Are you allured by the beauty and charm of the Chianti vineyards? Experience the natural splendour of the countryside the castle offers you engulfed by the magnificent hills. With an enchanting ambience, you can say your wedding vows under the blue, open skies and then celebrate your reception as you and your guests witness a gorgeous sunset. For a religious ceremony, the hotel chapel is newly restored and is the perfect place for a peaceful ceremony, as it is embellished in white and is surrounded by blooming gardens. The building is absolutely stunning and holds a romantic and sophisticated feel. The hotel ensures that you will be taken care of during your entire wedding day. The staff is hands-on, proactive and truly dedicated to the success of your wedding. No detail will be overlooked and every request will be met to leave the bride stress-free and focused on her new husband. The hotel itself offers exquisite rooms and suites for newlyweds and guests for the duration of their stay. It is equipped with a luxurious spa and a delicious, highly rated restaurant as well. Above all else, this is the venue for you with their stunning, amazing and picturesque scenery for your enjoyment.
Want to know more about this location? Send us an email
Do you know the feeling of being on a holiday and then going into the gift shop and wanting to pick up some postcards? You probably wanted to send a note home because the images were shockingly beautiful. Well at this little Borgo you not only have the chance to stay in their hotel but you can get married in their gorgeous and picturesque hotel. It is nestled in the Chianti countryside so you will have access to some of Italy's finest wines. The food is mouthwatering and your guests can savour the flavour as they indulge in it poolside. The spectacular sights offer a quiet and subtle tone to your wedding while the surrounding greenery adds to the rich and exquisite ambience. Your wedding will leave you feeling excited and filled with love and the location will leave you feeling completely relaxed and mesmerised with its splendour.
Want to know more about this location? Send us an email
Ready to escape the stress of everyday life and enter into a realm of relaxation and peace as you start the next chapter in your life as a married couple? This hotel strives to give you and your guests a break from your typical schedule and experience heaven on earth. The chef's mouth-watering dishes made with their homegrown produce will delight your guest leaving them full and satisfied. The hotel has tremendously stunning rooms on the interior. As you say, "I do" rest assured that it will be in an opulent room decorated so finely that you will be speechless and amazed. If you decide to utilise the garden of the hotel, be prepared to enter into the gorgeous nature in the heart of Tuscany. The abbey San Galgano is only 5 minutes away and is convenient if you would like a civil ceremony conducted. Although this location is more expensive than others it's very exclusive. It may be the countryside, but you will be in paradise. Experience the magic, serenity, and splendour this location holds. Suitable for a high budget.
Want to know more about this location? Send us an email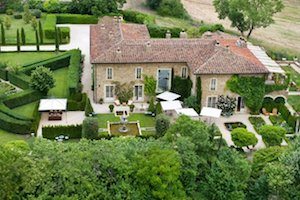 Enjoy the cool breeze and splendid seaside view during your stay at this unique Hotel. This is an ideal wedding location for a more relaxed and calming vibe. You have fresh air and plenty of space to have your wedding. Imagine being able to see the alluring view of the Tuscan Archipelago Islands. Although it is an hour and a half drive from the airport, it is worth every second because its seclusion from the bustling city gives your wedding a private affair aspect. You and your guests will love walking on the pathways, smelling the flowers, and seeing the divine sites from the cliff. For brides who want a simple yet sophisticated wedding, this seaside site is an impeccable place.
Want to know more about this location? Send us an email
If you are planning an intimate wedding affair on the beach, this villa best suit you and your every need. The accommodations include state of the art and recently renovated rooms in the four-star villa. If privacy, seclusion and remote describe the destination you have in mind for your wedding, the entire villa is available for reservation. They have a private beach only for their guests, ideal for a beach wedding. With their convivial staff, you will feel at ease and right at home while the natural light is great for wedding photography. The seaside view and wave sounds will calm your pre-wedding nerves. Hold your reception in their restaurant with a lovely view of the garden. A peaceful and stress-free wedding can be yours, just contact The Tuscan Wedding to help you plan your wedding here.
Want to know more about this location? Send us an email
As you enter into this traditional Tuscan venue, you will be transported back to medieval times. From the driveway, you will see dim lights, rows of trees and historic landmarks. When you walk through the front door, you will be greeted with the most heavenly smell of the cuisine wafting throughout the resort. All of this is waiting to welcome you. Close your eyes and imagine your dream wedding. Now open them and see it come to life through the hard work and dedicated staff who are committed to making this the day of your dreams. With a keen attention to detail and great effort, the professionals will ensure that everything runs seamlessly. The resort can hold your wedding party with as many as 160 guests. At your disposal, there is an ancient church that can hold 100 dear friends and family to witness your ceremony. The catering service here will treat your guests like royalty from the moment they enter the room until the moment they leave. If you would like an outdoor ceremony, there is a private garden adorned in pieces resembling the Renaissance manner or a "lemon-house" that is beloved for its simplistic style. However if ornate and grandiose is the path you would like then the Manor House is the perfect solution. This location is also popular for their additional services offered such as two on-site restaurants, spa, horseback riding, indoor and outdoor pool, a private villa, gym, and on call attendants to clean and prepare breakfast. They are also well known for their famous wine producer. Wherever you opt to hold your wedding, this location is the home of luxury, fine taste and pampering. Suitable for a high budget.
Want to know more about this location? Send us an email
If one of the priorities for your wedding is too extravagantly wine and dine your guests, this is the perfect location for your destination wedding. When you enter the grounds of this villa, you will be engulfed in the historic and classic surroundings. It will add the right amount of grace, sophistication and elegance to your event. You have the choice to take advantage of the vineyards that offer two of their famous wines. Your wedding party and guests will be amazed by the beauty and charm as they indulge in the scrumptious and decadent food available. Picture yourselves as newly weds, enjoying your wedding ceremony and reception as your overlook the countryside. Activities & Facilities: – Mountain bike trekking – Tennis / mini-football (synthetic pitch) – Turkish bath and sauna – Fitness in a small gym – Massage (on request) – Swimming pool Accommodation: Main Borgo: 7 Double rooms, 10 Suite, 3 Apartments, 1 Villa. At 1,5 km there are 7 Apartments. The location can contain 52 people +18 people excluding Sofàs Overnight stay: available within the location Internal capacity (seated): 60/80 External capacity (seated): 80/100 Internal catering/restaurant: Restaurant on site, internal cater available Music: Music up to midnight Catholic ceremony: Church 5 minutes from the location Civil ceremony: Certaldo 30 Minutes from the location Symbolic ceremony: Can be help in the garden Distance from airports: About 30 minutes from Florence, 1H from Pisa Other information: Stunning View on the vineyard
Want to know more about this location? Send us an email
With the capability of accommodating up to 19 people, this villa is an amazing venue location for your wedding and is ideal for a small and intimate party. If you need more space, this can be extra and added in. However, if you have a larger group, you can request a private villa which is only a short three-minute drive with surrounding tennis court, spa, and local shops. There is a highly maintained garden, big swimming pool and loggia with a wide view of the divine countryside of Tuscany. The entire villa is at your disposal and can be utilised to meet your wedding criteria. Previous couples have loved their cocktail hour poolside, then moving into the loggia and garden for a delicious dinner then back to the pool for dessert and dancing. Don't fear bad weather because the villa is ready to add a marquis to protect the garden. For the dinner menu, couples can select from customary Tuscan meals or international cuisine. Nevertheless, your guests will taste food that will stun their taste buds. For religious ceremonies, there is a beautiful Tonda that has a very rustic chic style suitable for Catholic ceremonies. If you would like a civil ceremony that is legally accepted, there are many venues in a nearby town for you to choose from, all of which are within a driving range of 20 minutes. For those who would like to renew their wedding vows or simply celebrate them again in Italy, a symbolic blessing can be performed in the comfortable garden villa. Whichever ceremony you choose, rest assured that your Villa wedding will be impeccably coordinated and done in a tasteful and glorious manner. As you, your friends, and family celebrate with delectable dishes, see a spectacular view of Tuscany, and make wonderful memories, it will be completed with a romantic and breath taking ambience.
Want to know more about this location? Send us an email
This villa is suitable for all size and style weddings. From a big to a small party or simple or grand theme, the villa is ready to tackle any idea you have in mind. The overall theme of the villa represents the Renaissance with stunning scenery all around the venue. The villa promises you a day you will never forget full of happy tears, laughter and kinship. The highly organised team is ready to please you and your fiancé with a positive, efficient and detail-oriented attitude. An interesting fact is that they have original wine barrels and a historical wine cellar on the site where they make their own wine to ensure the freshest and high qualities wines for your services. Another option is their restaurant that has the romantic and elegant touch that many couples look for in their wedding. They offer timeless Tuscan cuisine that will keep your guests wanting more. The restaurant is a magnificent option to consider for your wedding due to their proximity to the wedding amenities of the villa. As you dine in this state of the art restaurant, you will have the splendour of the countryside from your table. The enchanting villa is ready to work for you and your desires to achieve an amazing wedding that will leave you stunned.
Want to know more about this location? Send us an email
Are you ready to be charmed? If you chose to hold your wedding here, you will enjoy the enchanting and enrapturing feel of Villa Piandaccoli. It lies cosily in the rustic area of Tuscany so you can escape the hectic city for a more private and secluded weekend getaway. Say "I do," in their quaint chapel on the site before heading out to celebrate at your reception. The location is able to provide three extravagant rooms to best fit the size of your event. The rooms are perfectly sized so that it is not too large but not too crowded either—providing the perfect atmosphere of love. If your wedding is during the warmer months, you can plan your wedding outdoors. The location has a park that is connected to a garden and tall, towering trees to provide cool shade for you and your guests. The Villa wants to give their couples and guests a comfortable and romantic surrounding.
Want to know more about this location? Send us an email
As you approach the hotel, you will ponder what lays behind the mysterious walls protecting this villa, which dates back to the 18th century. Getting married in this villa ensures that you and your guests will enjoy the bountiful gardens and traditional culture as you bask under the radiating sun. Take advantage of the luxurious parlours, scenic views and magnificent pool during the course of your wedding day. This exquisite piece of architecture will sufficiently hold you and your guests and you celebrate the start of your new life. This location will leave you far from any disappointment with their thoughtful and eager to serve staff, focused on making your event run smoothly and flawlessly. Hold your ceremony in this "treasure" awaiting you, your friends and family in the midst of the prehistoric Medici city.
Want to know more about this location? Send us an email
This state of the art hotel has a very fresh and modern feel to it. It is the epitome of fine Italian craftsmanship and it's renowned for its luxurious beauty. The hotel is very unique, it encompasses a suave and chic look. Couples married here are extremely pleased and delighted with the location. It is a highly requested hotel to reserve for weddings due to its contemporary design while still staying true to their Italian roots. The hotel, restaurants and large conference rooms are there at your disposal and emit sophistication and a lovely ambience. This hotel invites and encourages you to commemorate your wedding day with them in the countryside of Tuscany. They strive to make it an unforgettable day with a beautiful ceremony and an enjoyable reception with dear friends and family. The atmosphere of this venue is one of tranquillity, comfort and lavish surroundings. They will take care and provide all that is needed while you relax and prepare to walk down the aisle.
Want to know more about this location? Send us an email
This venue is the prime location if you are interested in upholding tradition as well as isolation during your wedding ceremony. Having both low-key yet elegant influences, this venue is near several churches. This would make location very practical if you are looking to have a civil wedding ceremony at the church. One of the churches is highly popular to celebrate religious ceremonies near the venue. However, if you want your wedding in one location, you also have the option to utilise the dreamy village or the area near the lake in a gazebo surrounded by blooming flowers. The Inn is well known for its presence in nature and the most beautiful scenery engulfs it. The Inn has many amenities that are at your disposal. There is a large terrace, vividly colourful gardens, a pool, reception rooms to accommodate your wedding guests, and pool tables for your leisurely enjoyment. Additionally, there is a spa for your convenience if you have a moment for some relaxation during your stay. There is also a pizza place on the site for an informal meal with your friends. Something special that the estate offers is a buffet set up around the venue. Your guests will taste the most delicious foods while enjoying all aspects of the Inn. Extend you lovely wedding celebration and book a stay at the Inn to prolong the happiness with your friends and family. This venue is perfect for a simple yet classy wedding event.
Want to know more about this location? Send us an email
Comfortably nestled in the city of Florence, this villa is world renowned for the exquisiteness and ambience it provides their clients and guests. There are lush green hills as far as the eye can see and the River Arno flowing in the distance. It encompasses the right amount of charm and elegance while having one of the most amazing views of Florence. It is filled with the utmost splendour and it is near many scenic landmarks that provide romantic vibes. This lavish hotel waits to accommodate you and your guests. Watch your dream wedding come alive in the facilities that this hotel offers their couples. The remote garden grows the most colourful flowers that emit a calming and happy fragrance. This pleasant smell fills the garden and will surround your guests as they enter the garden for your ceremony. This relaxing and secluded area will provide them with a refreshing change of pace as they are transported into the beauty of nature and commemorate this special day with you. In addition, you can enjoy your wedding out on their widespread terrace that will offer enough space for your ceremony. This venue has one of the most beautiful terraces as compared to other venues. After the ceremony, you can celebrate and hold your reception here as well. Their amenities come complete with a professional catering service prepared to cook delicious and savoury courses for you. Prior to your wedding day, you can arrange and specifically design your menu to meet your desires with their head chef. Everything is ready to hold your once in a lifetime wedding ceremony, an unforgettable reception, and memories to cherish forever.
Want to know more about this location? Send us an email